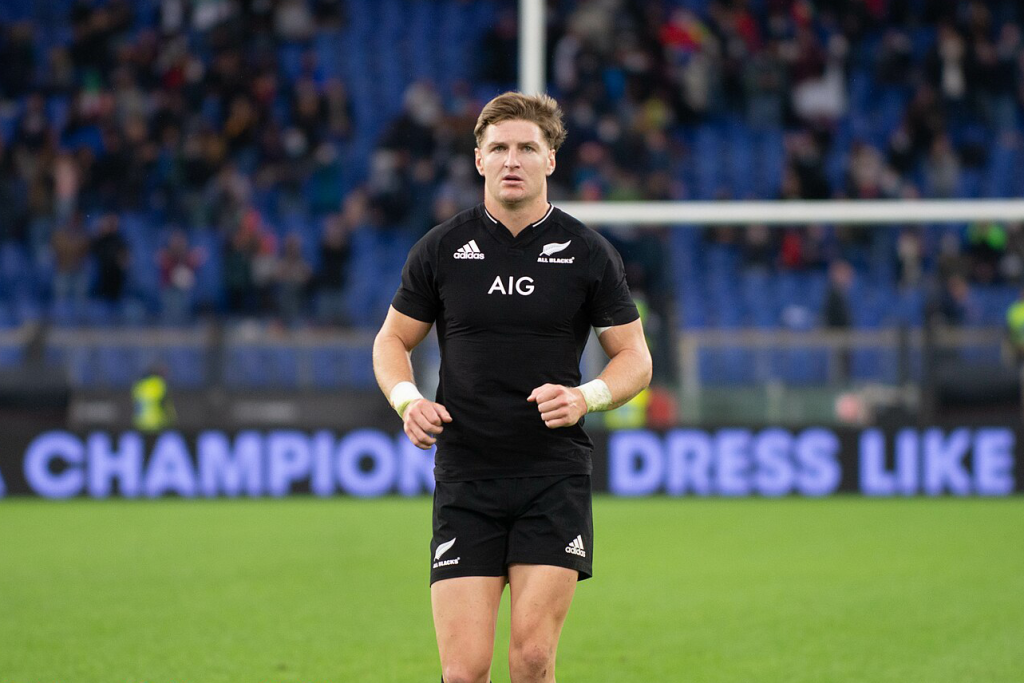 Did you hear the recent buzz about All-Black rugby star Jordie Barrett? Someone created a fake Bumble dating profile using his photos! Yikes! Let's dive into the deets and learn how to up our cyber safety game and protect ourselves from cyber risks.
When "Andrew" isn't really Andrew
A screenshot of a Bumble profile featuring Jordie Barrett's photos under "Andrew" was shared in the Facebook group Kiwis in London. Our "Andrew" claims to be 35 (Jordie is 26), works in finance, and has a passion for rugby. And guess what? This faux fella even nabbed a blue verification tick on his profile!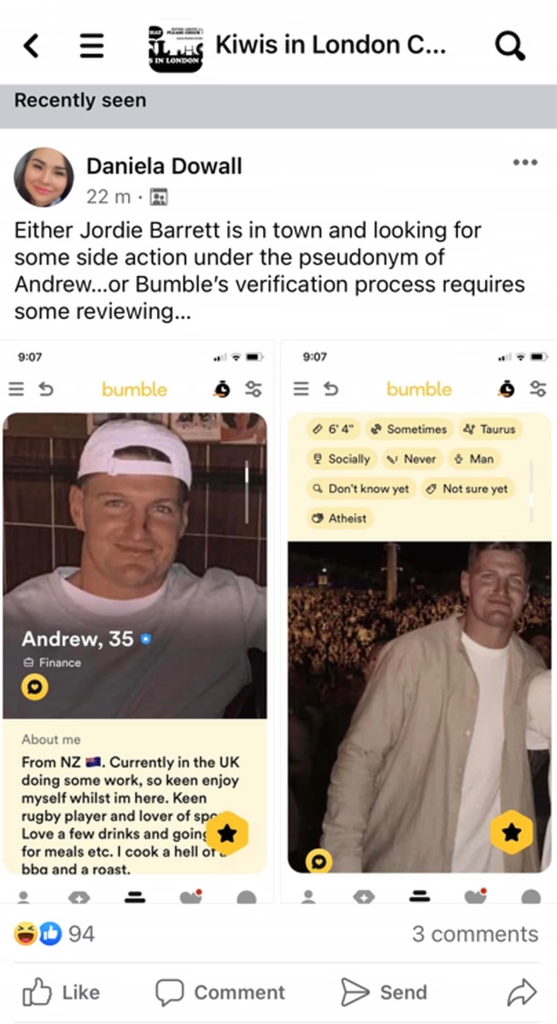 Rugby Star's Reaction
Jordie Barrett, happily committed to his long-term partner Alice Marshall, hasn't publicly spoken about the incident. However, a Hurricanes team representative confirmed his awareness of the post.
Bumble Bounces Back
A Bumble spokesperson told the Herald they removed the faker from their app. They also shared some cyber safety tips for avoiding romance scams:
Keep your personal info (like your home address, work address, email address, and account passwords) to yourself.
Keep financial information private from new matches.
Be cautious when making new connections, and feel free to block and report sketchy users.
Celebs Targeted by Scammers
Jordie Barrett isn't the only public figure targeted by scammers. Coast radio host Toni Street warned fans about a weight loss ad featuring her image without permission. She urges followers not to fall for the scam and emphasizes that she would never promote weight loss gummies.
Worried that someone's using your photos to catfish unsuspecting folks? Facecheck.id has got your back!
Facecheck.id: Your Secret Weapon Against Cyber Creeps
This nifty website uses facial recognition technology to scour the Internet for images of your lovely face.
Here's how to search for your face online using Facecheck.id:
Head over to Facecheck.id (I know, pretty obvious, right?).
Click "Choose File" and upload a photo of yourself.
Sit back and relax while the website does its magic, searching the Internet for any matches.
Check out the results and see if your images are being used without your permission.
How to Do a Reverse Image Search
Curious if your profile images have been used on the net without your consent? You can also try a reverse image search!
Here's how:
Go to Google Images.
Click the camera icon in the search bar.
Upload an image or paste the image URL.
Hit "Search", and voilà! See if your image appears elsewhere online.
Cyber safety is crucial for female entrepreneurs, especially regarding the authenticity of their brand identities. You've worked hard to build your business; don't let cyber creeps tarnish your sparkling reputation! So go ahead, boss babes, give Facecheck.id and a reverse image search a whirl and ensure your online safety.